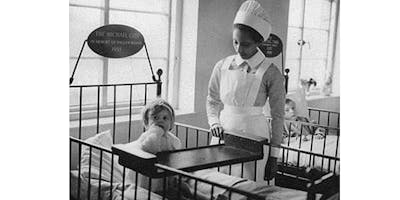 Of the 51,000 people dying in London every year in the 1840s, 21,000 were under 10 years of age. Opened in 1852 with just 20 beds, Great Ormond Street Hospital was the first hospital in the UK to offer dedicated inpatient care to children. Taking youngsters from nearby slums, the hospital led the way in developing guidance for nursing sick children. 160 years on it remains an international centre of excellence in child healthcare.

Nick Baldwin has been the hospital archivist for 28 years and will share with us his intimate knowledge of its role in the history of London and the stories to be found in documents, photographs and artefacts from the archive.
Advance booking is essential. Please book your place through Eventbrite http://tinyurl.com/AfLevents or by contacting Membership Secretary Louise Harrison on 020 7332 3879. Free for AfL members, non-members £6. Refreshments provided.
Thursday 5th October 2017: 18.00 – 19.30 (doors 17.30). London Metropolitan Archives: Huntley Room, 40 Northampton Road, London, EC1R 0HB