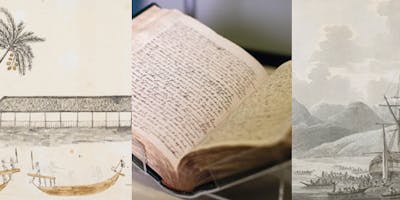 The British Library's new major exhibition James Cook: The Voyages marks 250 years since the Endeavour set sail from Plymouth. The exhibition tells the story of Cook's three world changing voyages through original documents, many of which were produced by the artists, scientists and seamen on board the ship. Cook's voyages are still highly controversial and contested today and the exhibition includes films exploring contemporary views on Cook's legacy.
This talk will focus on the process of creating the exhibition as well as on key exhibits and loans.
Laura Walker is Lead Curator of Modern Archives and Manuscripts 1851-1950, at the British Library. She is responsible for collections which include important literary, historical and scientific western manuscripts. She has recently co-curated the British Library's exhibition James Cook: The Voyages.
Advance booking is essential. Please book your place through Eventbrite or by telephoning Alex on 020 7594 8818.
Free for AfL members, non-members £6. Refreshments provided.