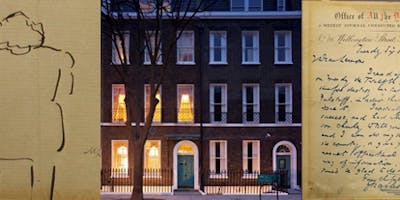 The Charles Dickens Museum is the world's most comprehensive repository of Dickens-related material. Curator Louisa Price will give a background to its holdings and share highlights of the archive collections, ranging from Dickens's legal papers and family letters to the centenary events of 2012. The archive holdings comprise many individual collections amassed by Dickensian researchers and collectors – many of whom knew each other and the Museum. Louisa will use the second half of her talk to examine the collections' trajectories, explaining how they came to be in the Museum, the impact of their journeys on what is and isn't held and on what is known about the material.
Louisa Price is Curator of the Georgian townhouse at 48 Doughty Street, Bloomsbury, where the novelist lived in the 1830s, now home to the Charles Dickens Museum. She is responsible for the Grade 1 listed property, the Museum's collections of art, furniture and archive material and for its library. Formerly Assistant Curator at the Museum of Domestic Design and Architecture, Louisa has a wealth of previous museum experience including work for the Geffrye Museum and for social history museums in New Zealand and Australia.
Advance booking is essential. Please book your place through Eventbrite or by telephoning 020 7332 3879.
Thursday 1st March 2018: 18.00 – 19.30 (doors 17.30)