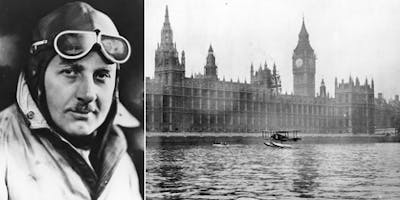 Sir Alan Cobham was a pioneering long-distance aviator and technical innovator who became famous for his exploits during the 1920s and 1930s, making aviation accessible and popular throughout the world.

Cobham learnt to fly in the RAF during the First World War and later went on to set many long-distance aviation records. He was the first person to fly from London to Australia and back – landing on the River Thames at the end of his incredible journey – and was knighted by King George V. His flying tours of the United Kingdom, Ireland and South Africa became affectionately known as 'Sir Alan Cobham's Flying Circus'. These tours promoted aviation to the public and were a source of inspiration for countless pilots in the Second World War.
As a Curator at the RAF Museum, Daniel Albon catalogued the papers of Sir Alan Cobham and curated an exhibition celebrating his life and achievements. Daniel is now an Archivist at London Metropolitan Archives, specialising in Anglo-Jewish collections.    
Advance booking is essential. Please book your place through Eventbrite or by telephoning 020 7332 3879.
Free for AfL members, non-members £6. Refreshments provided.
Thursday 1st February 2018: 18.00 – 19.30 (doors 17.30)